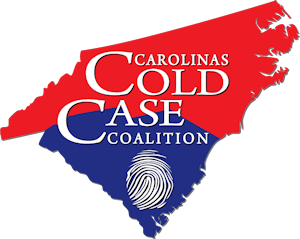 The Carolinas Cold Case Coalition is a non-profit, volunteer based organization comprised of retired local, state, and federal law enforcement officers, who have extensive backgrounds and experience with death investigations and violent crimes. The coalition members provide case consultations, case reviews, evaluations, advice, and suggestions free of charge to law enforcement practitioners working cold cases and unsolved violent crimes. Coalition members also provide cold case training and investigative support.
The concept for the Carolinas Cold Case Coalition first emerged in 1999 during meetings at the North Carolina Homicide Investigator's Association (NCHIA) annual training conference. The coalition is staffed by retired local, state, and federal law enforcement members dedicated to investigative excellence, providing hope to families affected by violent crime, creating law enforcement partnerships, and equipping investigators with the necessary training and resources to help solve previously unsolved murders. All coalition members are keenly familiar with the mechanics of homicide investigation and the components required for solving cold cases.
According to FBI statistics, since 1995 the national average of solved homicides in the United States is around 64%. Hence, 36% of murders remain unsolved annually and that percentage is not on the decline. Today, there are over 200,000 unsolved murders in America. Unmanageable investigative caseloads and competing priorities limit an investigator's effectiveness and ability to resolve cases. The lack of training and necessary resources further exacerbates the problem. There has never been a lack of interest or desire to solve cases, however, many investigators lack the proper resources and training required to properly pursue them. Coalition members mentor and train investigators with proven investigative techniques while exposing them to the newest forensic developments.
The team has provided case reviews, consultations, and investigative strategies to numerous law enforcement agencies in the United States and around the globe. Please contact the collation today to determine how we can help you with those unsolved murders in your local community. Our services are provided free of charge to any official law enforcement organization.
Quarterly case reviews are conducted in Winston-Salem, NC and Myrtle Beach, SC where law enforcement practitioners meet with coalition members and present their cases for investigative ideas and suggestions. Coalition members conduct case reviews throughout the year at our office in Colfax, NC. Agencies desiring assistance and/or wanting to participate in a quarterly case review should contact coalition staff at 336-813-3299.